A splashback is a piece of panelling mounted on the walls behind a sink or a stove to protect it from water and liquid splashes. It is a simple device but can protect the walls from water or liquid damage.
Splashback is usually placed on areas that are high usage, such as the kitchen. Specifically, areas like the sink have a lot of water splashes to protect the wall. It is also used in areas near a stove or cooking area where liquids like oil and water splashes are very common.
Aside from its practical use of preventing liquid damage, it can also serve as a decorative piece to add a splash of colour to your kitchen. Initially only seen in kitchen showrooms, glass flashbacks have gained popularity and are used in Australian homes.
Types of Splashback
Although glass splashback is gaining popularity, there are also other types of flashback available in the market. Let us discuss some of them :
Tiles
Tiles are the most popular type of splashback because of their affordable price and variety of design options. A tiled splashback will cost around $15 per square meter. They are very reasonable, robust, practical and very easy to maintain. You can easily match a tile to any walls since they come in a variety of colours.
Acrylic
It is the cheapest alternative to a glass splashback; they look similar to a glass flashback but are more affordable. If you plan to have a glass splashback but has a limited budget, you can use acrylic instead. But compared to other splashback, it might not be the cheapest option.
Laminate
Laminated hardboards are affordable and rugged options for splashback. They are moisture and stain-resistant and can help keep the kitchen walls clean. Of course, the lower price would mean its performance is a little lower compared to other materials. Since its made of hardboards, it may not last longer compared to a metal or glass splashback.
Metal
Presses Metal splashback are affordable, practical and easy to install. Usually made of corrosive and moisture-resistant metal, it is easy to cut, paint and customized. However, one major drawback is the limited design options.
Glass
Perhaps one of the most eye-catching splashback is made from glass. They have superior moisture resistance, low maintenance and easy to clean. They have many modern design options and can make your kitchen appear more prominent and brighter. One major drawback is the price, and glass splashback is more expensive than the other types.
Advantages of Glass Splashback
More Protection – splashback is often located on areas like the stoves or sinks that have cooking oil, stains, grease. Splashback protects these areas and makes them easy to clean.
Hygienic – when using tiles as a splashback, food splatter would likely accumulate in the joints or seams. Since glass is smoother and moisture resistant, you can easily wipe them off and maintain cleanliness.
Longevity – although the initial investment for glass splashback is high, it will last longer than other splashback types. 
Design – glass splashback comes in many designs and are not just plain glass. Homeowners can have a printed format, painted with a solid colour or painted with a colourful design.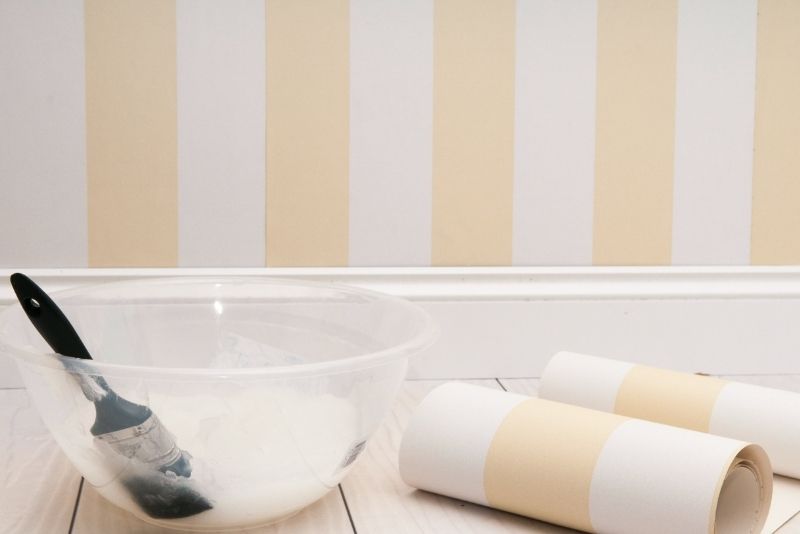 How much is a Glass Splashback?
The price of a splashback will depend on the size of the glass panel used and its thickness. A standard pre-cut splashback is around $149.00, 700 mm x 745 mm in length and height and 6 mm in thickness, made from toughened colour glass.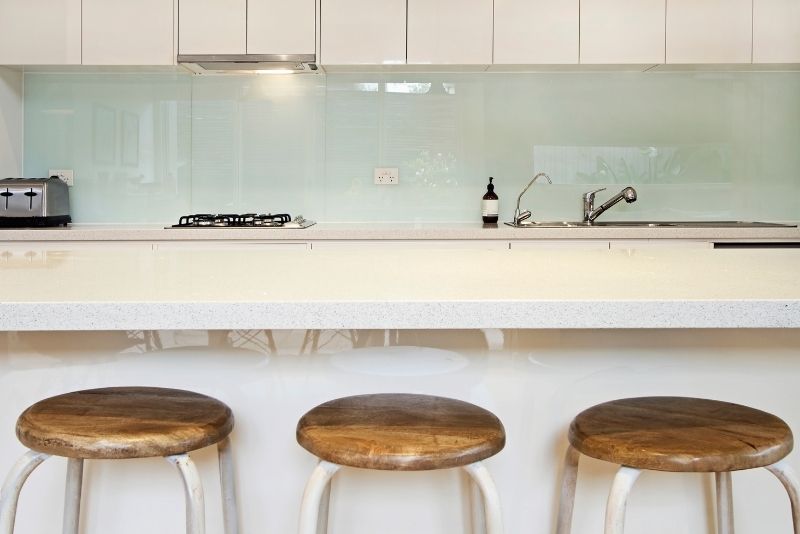 On the other hand, a customized high-end glass splashback will cost between $400 to $1000 per square metre with 6 mm in thickness. This high-end glass splashback comes in different designs and colours.
How to install a glass splashback
A glass splashback can be heavy, bulky and awkward to handle. It is recommended to hire a professional installer who will take care of the glass installation.
Check the local licensing office for a list of licensed splashback installers in your area. It will ensure that your splashback will be safely installed and assuring quality.
Make sure to check their background, including their previous work. Ask the contractor if they have the necessary licensed and insurance. Installing a glass splashback can be a bit complicated, so a DIY is not recommended.
Make it a habit to contact multiple contractors and ask them for quotes. Look at their price, warranty and services they are offering. Cheaper does not always mean better. A more experienced installer might be a little more expensive, but the quality is higher.